Product Detail
Product Tags
Buyer Reviews
We not only will try our greatest to offer superb companies to just about every buyer, but also are ready to receive any suggestion offered by our shoppers for Calcium Chloride Medication,Calcium Chloride Dihydrate,Calcium Chloride Formula CaCl2. Africa and Eastern Europe. we can supply high quality products with the very competitive price.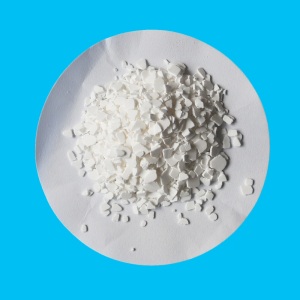 Calcium Chloride formula:
CaCl₂
Calcium Chloride Anhydrous
Molecular Formula :
CaCl₂
Molecular Weight : 110.98 CAS: [10043-52-4]
Calcium Chloride Dihydrate
Molecular Formula :
CaCl₂
.2H2O Molecular Weight : 147.01 CAS: [10035-04-8]
INS: 509
Calcium Chloride occurs as white, hard fragments, granules, or powder. It is anhydrous or contains two molecules of water of hydration. It is deliquescent. It is soluble in water and slightly soluble in alcohol. The

Calcium Chloride

pH of a 1:20 aqueous solution is between 4.5 and 11.0.
Function Firming agent.
REQUIREMENTS
Labeling Indicate whether it is anhydrous or the dihydrate.
Identification A 1:10 aqueous solution gives positive tests for Calcium and for Chloride, Appendix IIIA.
Assay Anhydrous: Not less than 93.0% and not more than 100.5% of CaCl2; Dihydrate: Not less than 99.0% and not more than 107.0% of CaCl2·2H2O.
Acid-Insoluble Matter Anhydrous: Not more than 0.02%; no particles per kilogram of sample greater than 2 mm in any dimension.
Arsenic Not more than 3 mg/kg.
Fluoride Not more than 0.004%.
Lead Not more than 5 mg/kg.
Magnesium and Alkali Salts Anhydrous: Not more than 5.0%; Dihydrate: Not more than 4.0%.
Calcium Chloride Uses:
Medical use

Indication:
the product can be used for colic and so on.

It can be used for pruritus dermatoses.

It is used to rescue magnesium salt poisoning.

for vitamin D deficiency rickets, rickets, pregnant women and lactating women calcium supplement.

Treatment of calcium deficiency, acute hypocalcemia, alkalosis and hypoparathyroidism caused by tetany, vitamin D deficiency;

allergic diseases;

the rescue of magnesium poisoning;

the rescue of fluorosis;

Cardiac resuscitation, such as hyperkalemia, hypocalcemia, or calcium channel blockade caused by the rescue of cardiac dysfunction.

Calcium chloride solution can induce the polymerization of actin monomer, and the critical concentration of actin monomer polymerization is inversely related to the concentration of calcium chloride solution. The mechanism of actin induced polymerization is related to the binding of calcium ions to multiple specific sites.



Dosage and usage:
5% calcium chloride solution 10 - 20ml was diluted slowly with 25% glucose solution for 1 times.



Matters needing attention:
1, when intravenous injection, there is a sense of systemic fever. Injection should be slow (no more than 2 ml per minute), because calcium salt excites the heart, injection too fast will make blood calcium concentration suddenly increased, causing arrhythmia, and even cardiac arrest.

2. Avoid using this product within 7 days after application of cardiac glycoside or after withdrawal.

3, there is strong irritation, 5% solution can not be directly injected, should be diluted before the injection with the same amount of glucose solution. It is not suitable for skin injection or intramuscular injection.

4, injection should not be leaked out of the blood vessels, otherwise it will cause severe pain and tissue necrosis. If there is leakage outside the blood vessels, 5% procaine solution should be used for local closure immediately.

5, pediatric dosage: low calcium treatment volume is 25mg/kg (6.8mg calcium), intravenous drip.

Specifications: injection: each 0.3g (10ml), 0.5g (10ml), 0.6g (20ml), 1g (20ml) [20]



Medication for children:
Under normal circumstances, this product is not used in children.
"Our business puts emphasis over the administration, the introduction of talented staff, plus the construction of employees building, striving hard to boost the standard and liability consciousness of staff members. Our corporation successfully attained IS9001 Certification and European CE Certification of Calcium chloride CaCl₂ CAS No. 10043-52-4. The product will supply to all over the world, such as: Spain,Liberia,Lebanon. We sincerely welcome overseas customers to consult for the long-term cooperation and the mutual development.