Product Detail
Product Tags
Buyer Reviews
Our company since its inception, usually regards product high-quality as company life, constantly boost manufacturing technology, boost product excellent and continuously strengthen company total excellent administration, in strict accordance using the national standard ISO 9001:2000 for Food Grade Potassium Citrate Fcc Standard,Food Additive Tripotassium Citrate BP2013,Tripotassium Citrate Monohydrate Food Grade. because of our top quality and reasonable prices.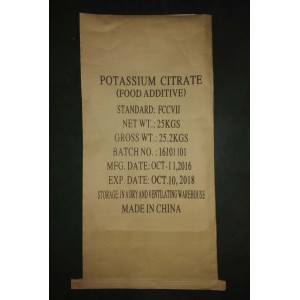 Potassium Citrate Monohydrate
Molecular Formula: C6H5K3O7•H2O
Molecular Weight :324.41
CAS: [6100-05-6]
E Code: E332

DESCRIPTION
Potassium citrate (also known as tripotassium citrate) is a potassium salt of citric acid with the molecular formula K3C6H5O7. It is a white, hygroscopic crystalline powder. It is odorless with a saline taste. It contains 38.28% potassium by mass. In the monohydrate form it is highly hygroscopic and deliquescent.
As a food additive, potassium citrate is used to regulate acidity and is known as E number E332. Medicinally, it may be used to control kidney stones derived from either uric acid or cystine.
USAGE
Potassium citrate is rapidly absorbed when given by mouth and is excreted in the urine. Since it is an alkaline salt it is effective in reducing the pain and frequency of urination when these are caused by highly acidic urine. It is used for this purpose in dogs and cats, but is chiefly employed as a non-irritating diuretic.
Potassium citrate is an effective way to treat/manage gout and arrhythmia, if the patient is hypokalemic.
It is widely used to treat urinary calculi (kidney stones) and is often used by patients with cystinuria. A study of 500 patients with recurrent stones found that it reduced the frequency of stones from 2 per year to a half per year.
It is also used as an alkanizing agent in the treatment of mild urinary tract infections such as cystitis.
It is also used in many soft drinks as a buffering agent. Indeed, 2 l of crystal lite lemonade contains about 40 meqs; medical levels
Potassium Citrate BP - British pharmacopeia 2013
Chemical formula : C6H5K3O7.H2O
Molecular weight : 324.4
CAS No.: 6100-05-6
DEFINITION
Potassium citrate contains not less than 99.0 per cent and not more than the equivalent of 101.0 per cent of tripotassium 2-hydroxypropane-1,2,3-tricarboxylate, calculated with reference to the anhydrous substance.
CHARACTERS
A white, granular powder or transparent crystals, hygroscopic, very soluble in water, practically insoluble in alcohol.
IDENTIFICATION
A. To 1 ml of solution S (see Tests) add 4 ml of water. The solution gives the reaction of citrates.
B. 0.5 ml of solution S gives reaction of potassium.
TESTS
Solution S
Dissolve 10.0 g in carbon dioxide-free water prepared from distilled water and dilute to 100 ml with the same solvent.
Appearance of solution
Solution S is clear and colourless.
Acidity or alkalinity
To 10 ml of solution S add 0.1 ml of phenolphthalein solution. Not more than 0.2 ml of 0.1 M hydrochloric acid or 0.1 M sodium hydroxide is required to change the colour of the indicator.
Readily carbonizable substances
To 0.20 g of the powdered substance to be examined add 10 ml of sulphuric acid and heat in a water-bath at 90 ± 1°C for 60 min. Cool rapidly. The solution is not more intensely coloured than reference solution.
Chlorides
Dilute 10 ml of solution S to 15 ml with water. The solution complies with the limit test for chlorides (50 ppm).
Oxalates
Dissolve 0.50 g in 4 ml of water, add 3 ml of hydrochloric acid and 1 g of granulated zinc and heat on a water-bath for 1 min. Allow to stand for 2 min, decant the liquid into a test-tube containing 0.25 ml of a 10 g/l solution of phenylhydrazine hydrochloride and heat to boiling. Cool rapidly, transfer to a graduated cylinder and add an equal volume of hydrochloric acid and 0.25 ml of potassium ferricyanide solution. Shake and allow to stand for 30 min. Any pink colour in the solution is not more intense than that in a standard prepared at the same time and in the same manner using 4 ml of a 0.05 g/l solution of oxalic acid (300 ppm).
Sulphates
To 10 ml of solution S add 2 ml of hydrochloric acid and dilute to 15 ml with distilled water. The solution complies with the limit test for sulphates (150 ppm).
Heavy metals
12 ml of solution S complies with limit test A for heavy metals (10 ppm).
Sodium
Not more than 0.3 per cent of Na, determined by atomic emission spectrometry.
Water
4.0 per cent to 7.0 per cent, determined on 0.500 g by the semi-micro determination of water. After adding the substance to be examined, stir for 15 min before titrating.
Potassium Citrate USP - United States Pharmacopeia 40
Potassium Citrate
C6H5K3O7·H2O 324.41
1,2,3-Propanetricarboxylic acid, 2-hydroxy-, tripotassium salt, monohydrate.
Tripotassium citrate monohydrate [6100-05-6]
Anhydrous 306.40 [866-84-2]
Potassium Citrate contains not less than 99.0 percent and not more than 100.5 percent of C6H5K3O7, calculated on the dried basis.
Identification- A solution (1 in 10) responds to the tests for Potassium and for Citrate.
Alkalinity- A solution of 1.0 g in 20 mL of water is alkaline to litmus, but after the addition of 0.20 mL of 0.10 N sulfuric acid, no pink color is produced by the addition of 1 drop of phenolphthalein TS.
Loss on drying- Dry it at 180 for 4 hours: it loses between 3.0% and 6.0% of its weight.
Tartrate- To a solution of 1 g in 1.5 mL of water in a test tube add 1 mL of 6 N acetic acid, and scratch the walls of the test tube with a glass rod: no crystalline precipitate is formed.
Heavy metals- Dissolve 2 g in 25 mL of water, and proceed as directed for Test Preparation, except to use glacial acetic acid to adjust the pH: the limit is 0.001%.
Potassium Citrate FCC Food Grade – Food Chemicals Codex
Tripotassium Citrate
KOOCCH2C(OH)(COOK)CH2COOK·H2O
C6H5K3O7·H2O Formula wt 324.41
INS: 332(ii) CAS: [6100-05-6]
DESCRIPTION
Potassium Citrate occurs as transparent crystals or as a white, granular powder. It is deliquescent when exposed to moist air. One gram dissolves in about 0.5 mL of water. It is almost insoluble in alcohol.
Function: Buffer; sequestrant; stabilizer.
REQUIREMENTS
Identification: A 1:20 aqueous solution gives positive tests for Potassium and for Citrate.
Assay: Not less than 99.0% and not more than 100.5% of C6H5K3O7 after drying.
Alkalinity: A 1:20 aqueous solution is alkaline to litmus, but after the addition of 0.2 mL of 0.1 N sulfuric acid to 10 mL of this solution, no pink color appears after the addition of 1 drop of phenolphthalein TS.
Lead: Not more than 2 mg/kg.
Loss on Drying: Between 3.0% and 6.0%.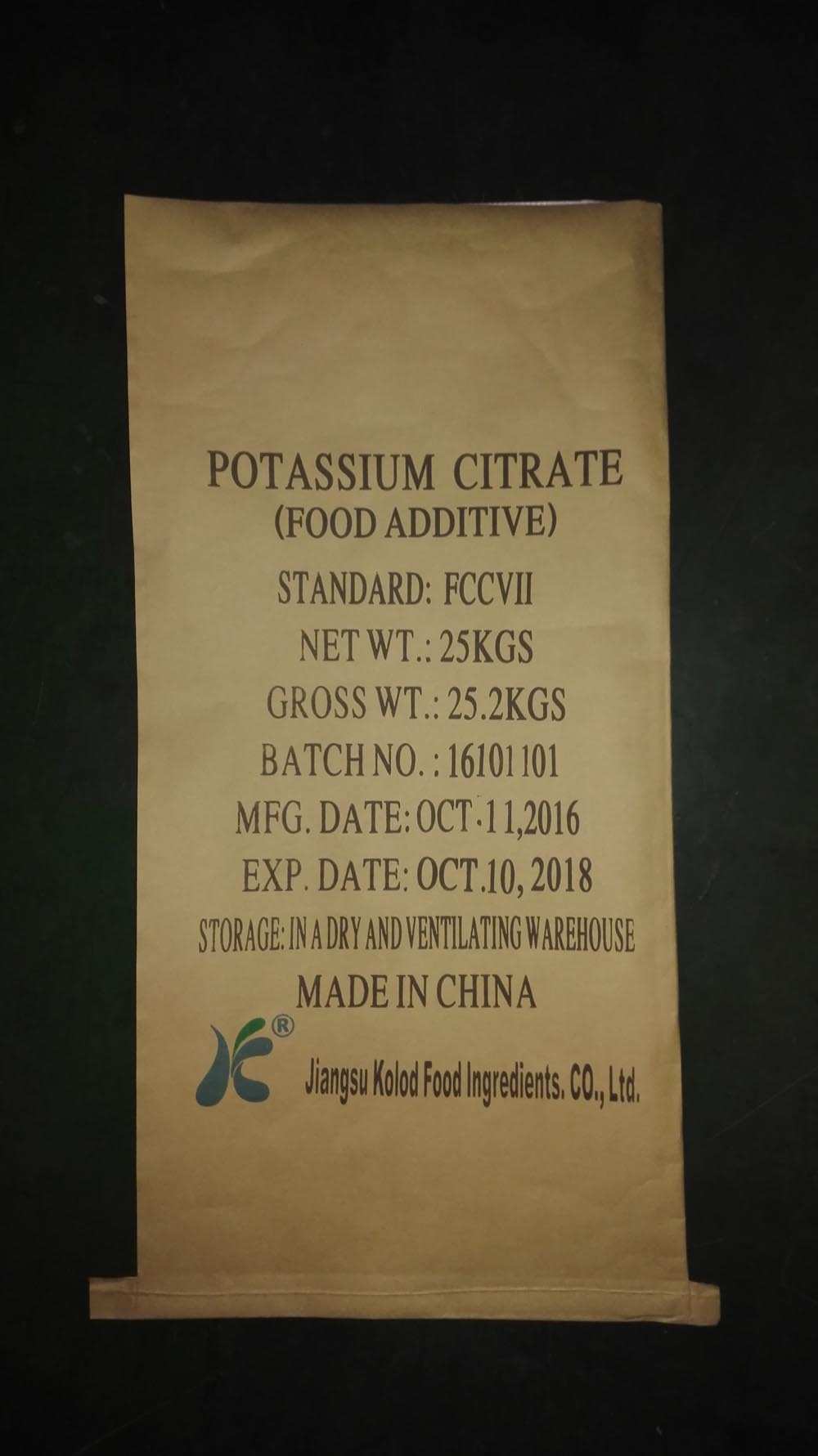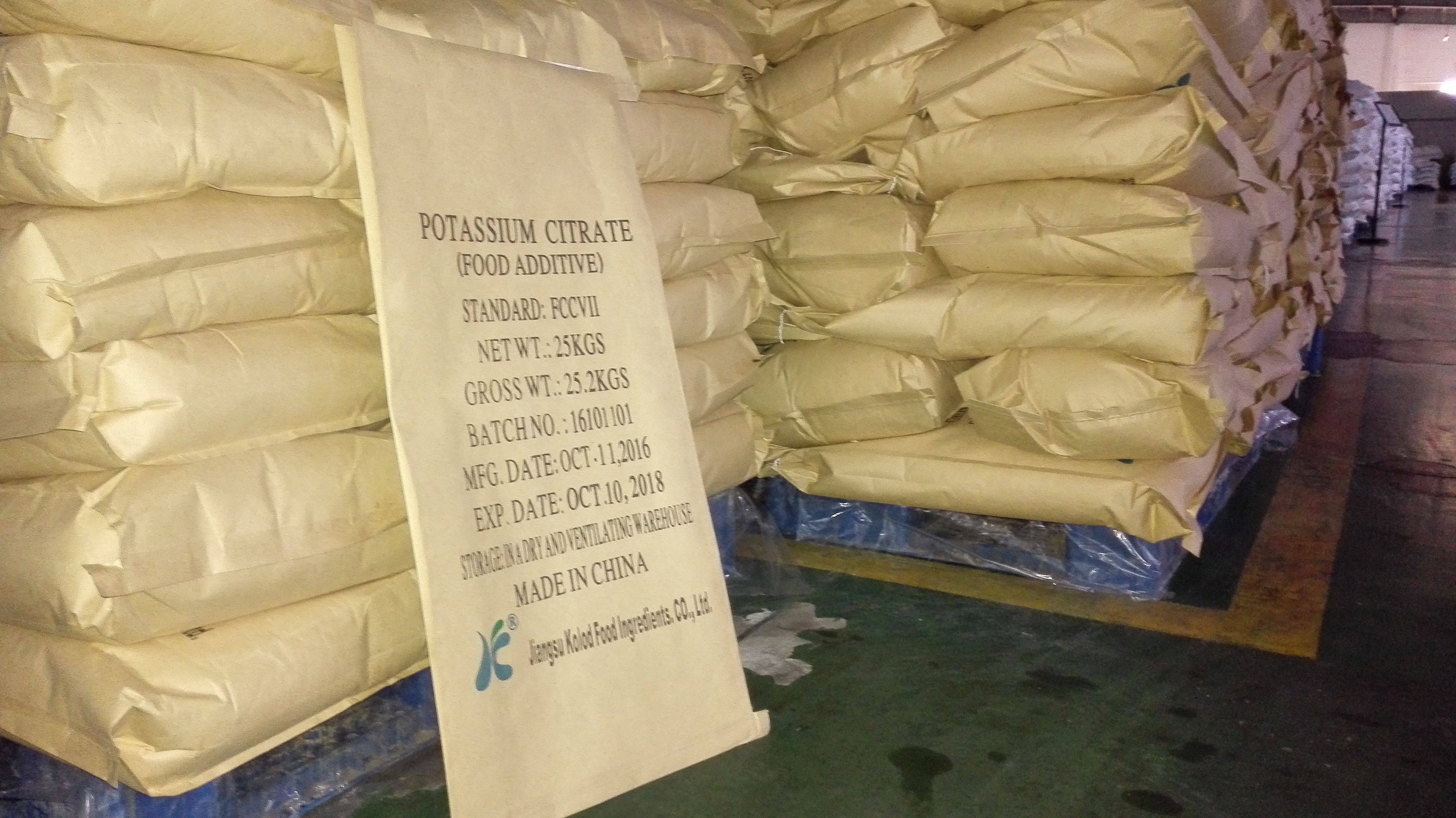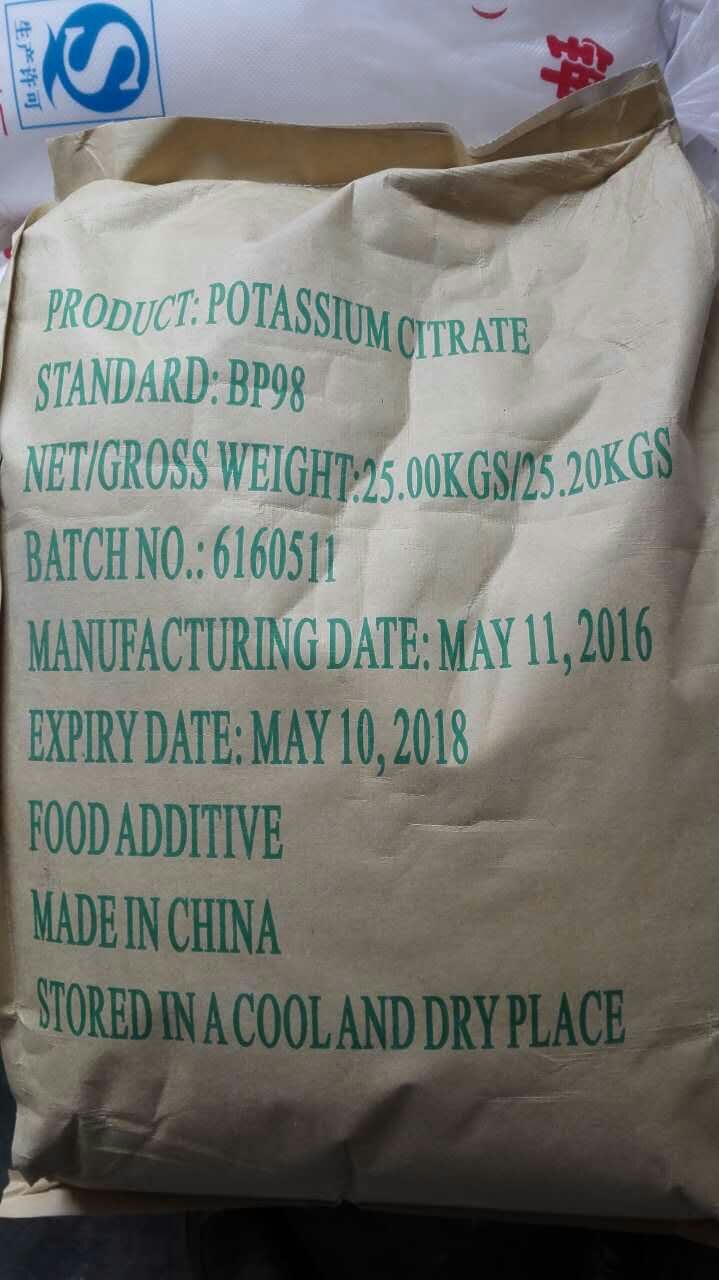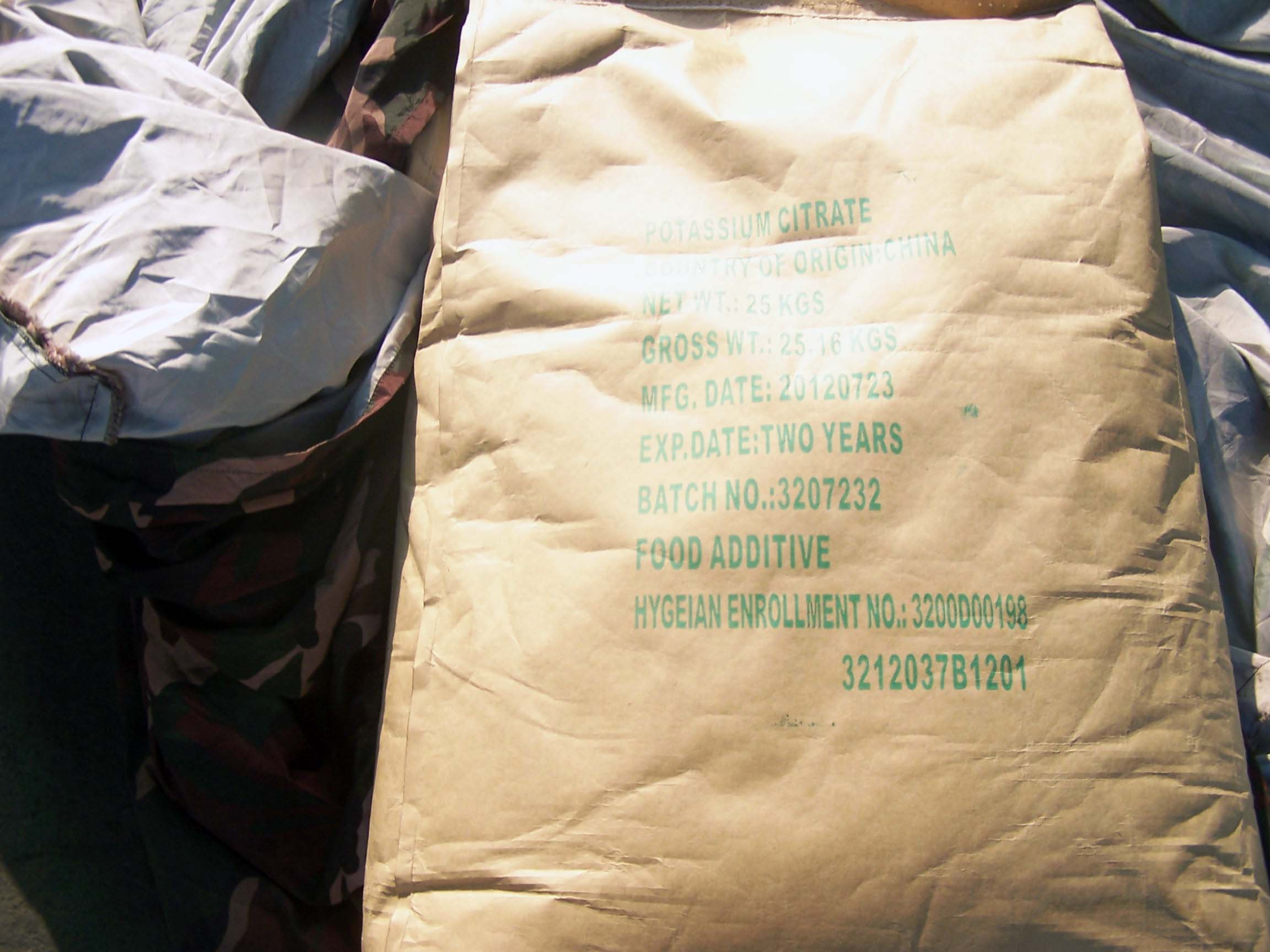 It really is our responsibility to satisfy your requirements and competently serve you. Your fulfillment is our greatest reward. We're on the lookout forward in your go to for joint progress for Potassium citrate food additive Tripotassium citrate. The product will supply to all over the world, such as: Spain,Namibia,Italy. We've been your reliable partner in international markets with the best quality items. Our advantages are innovation flexibility and reliability which have been built during the last twenty years. We focus on providing service for our clients as a key element in strengthening our long-term relationships. Our continual availability of high grade merchandise in combination with our excellent pre-sales and after-sales service ensures strong competitiveness in an increasingly globalized market.