Product Detail
Product Tags
Buyer Reviews
Gaining purchaser gratification is our company's aim eternally. We're going to make great initiatives to create new and top-quality products, satisfy your exclusive prerequisites and supply you with pre-sale, on-sale and after-sale solutions for Food Grade Zinc Acetate High Purity,Zinc Acetate Dihydrate Food Grade,Zinc Acetate Dihydrate BP2013 99%. really don't hesitate to make contact with us.
Zinc acetate dihydrate, Acetic acid Zinc salt dihydrate, C4H6O4Zn.2H2O
Description
Zinc acetate is a salt with the formula Zn(CH3CO2)2, which commonly occurs as the dihydrate Zn(CH3CO2)2·2H2O. Both the hydrate and the anhydrous forms are colorless solids that are commonly used in chemical synthesis and as dietary supplements. Zinc acetates are prepared by the action of acetic acid on zinc carbonate or zinc metal. When used as a food additive, it has the E number E650.
Application
Dietary and medicinal applications
Zinc acetate has been used in lozenges for treating the common cold. Zinc acetate can also be used to treat zinc deficiencies.[2] As an oral daily supplement it is used to inhibit the body's absorption of copper as part of the treatment for Wilson's disease. Zinc acetate is also sold as an astringent in the form of an ointment, a topical lotion, or combined with an antibiotic such as erythromycin for the topical treatment of acne.[4] It is commonly sold as a topical anti-itch ointment.

Industrial applications
Industrial applications include wood preservation, manufacturing other zinc salts, polymers, manufacture of ethyl acetate, as a dye mordant, and analytical reagent. It is used in commercial nuclear power plants as a plating inhibitor on primary water piping.
n British Pharmacopoeia
Zinc Acetate BP
C4H6O4Zn-2H2O
Action and use
Astringent
Preparation
Erythromycin and Zinc Acetate Lotion
DEFINITION
Content
99.0 per cent to 101.0 per cent of C4H6O4Zn-2H2O
CHARACTERS
Appearance
White or almost white crystalline powder or flakes.
Solubility
Freely soluble in water, soluble in ethanol (96 per cent).
IDENTIFICATION
A. It gives reaction of acetates.
B. It gives the reaction of zinc.
n Zinc Acetate USP Dihydrate
C4H6O4Zn·2H2O 219.51
Acetic acid, zinc salt, dihydrate.
Zinc acetate dihydrate [5970-45-6]
Anhydrous 183.48 [557-34-6]
Zinc Acetate contains not less than 98.0 percent and not more than 102.0 percent of C4H6O4Zn·2H2O.
Identification- A solution (1 in 20) responds to the tests for Zinc and for Acetate.
pH: between 6.0 and 8.0, in a solution (1 in 20).
Insoluble matter- A 20-g portion, dissolved in 150 mL of water containing 1 mL of glacial acetic acid, shows not more than 1.0 mg of insoluble matter (0.005%).
Arsenic: 3 ppm.
Lead- (0.002%).
Chloride- (0.005%).
Sulfate- (0.010%).
Alkalies and alkaline earths- (0.2%).
n Zinc Acetate Dihydrate ACS Analytical Reagent
Reagent Chemicals
ACS Specifications
Zinc Acetate Dihydrate
(CH3COO)2Zn-2H2O
Formula Wt 219.51
CAS Number 5970-45-6
REQUIREMENTS
| | |
| --- | --- |
| Assay | 98.0-101.0% (CH3COO)2Zn . 2H2O |
| pH of a 5% solution | 6.0-7.0 at 25C |
MAXIMUM ALLOWABLE
| | |
| --- | --- |
| Insoluble matter | 0.005% |
| Chloride (Cl) | 5 ppm |
| Sulfate (SO4) | 0.005% |
| Calcium (Ca) | 0.005% |
| Magnesium (Mg) | 0.005% |
| Potassium (K) | 0.01% |
| Sodium (Na) | 0.05% |
| Iron (Fe) | 5 ppm |
| Lead (Pb) | 0.002% |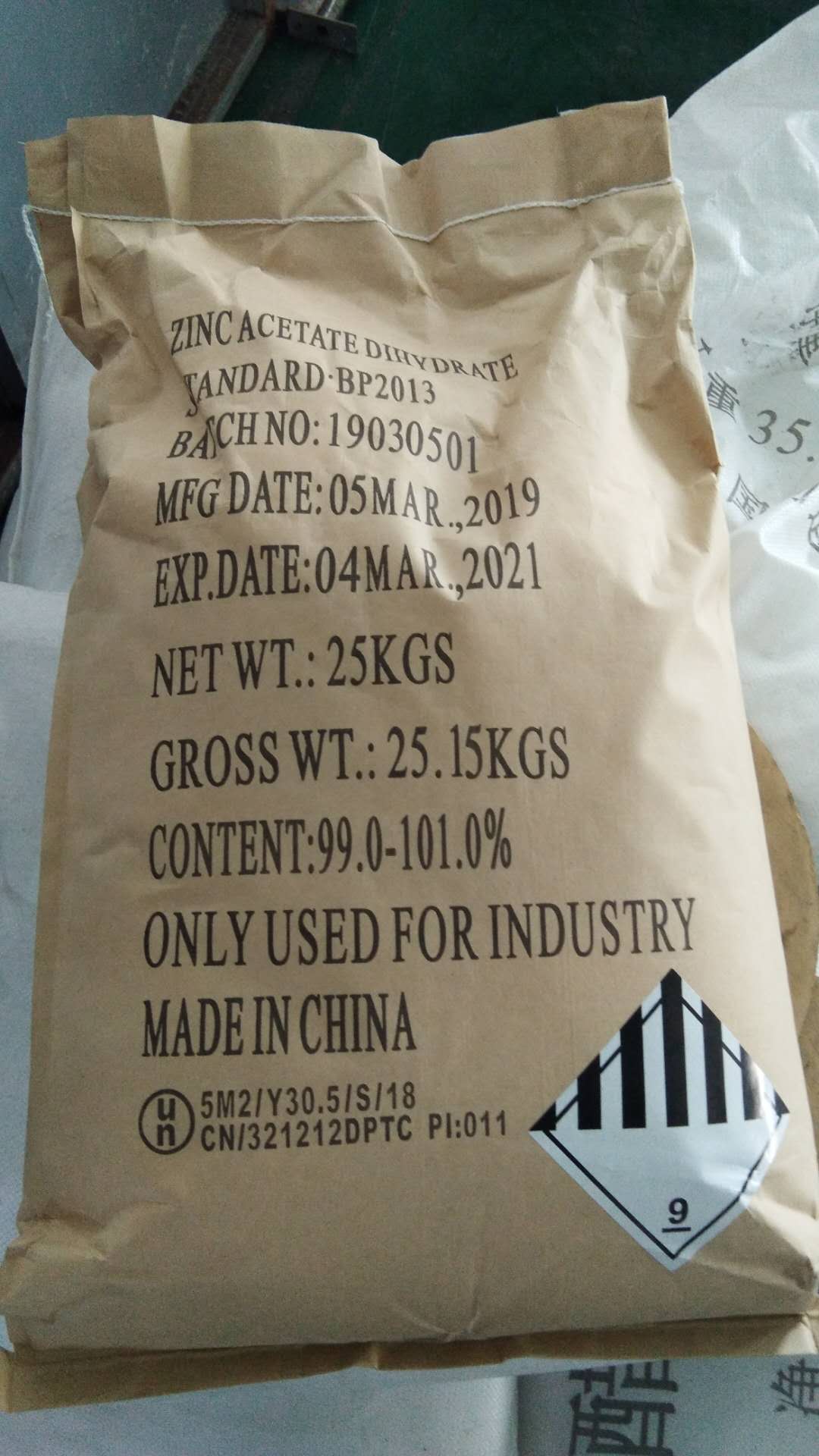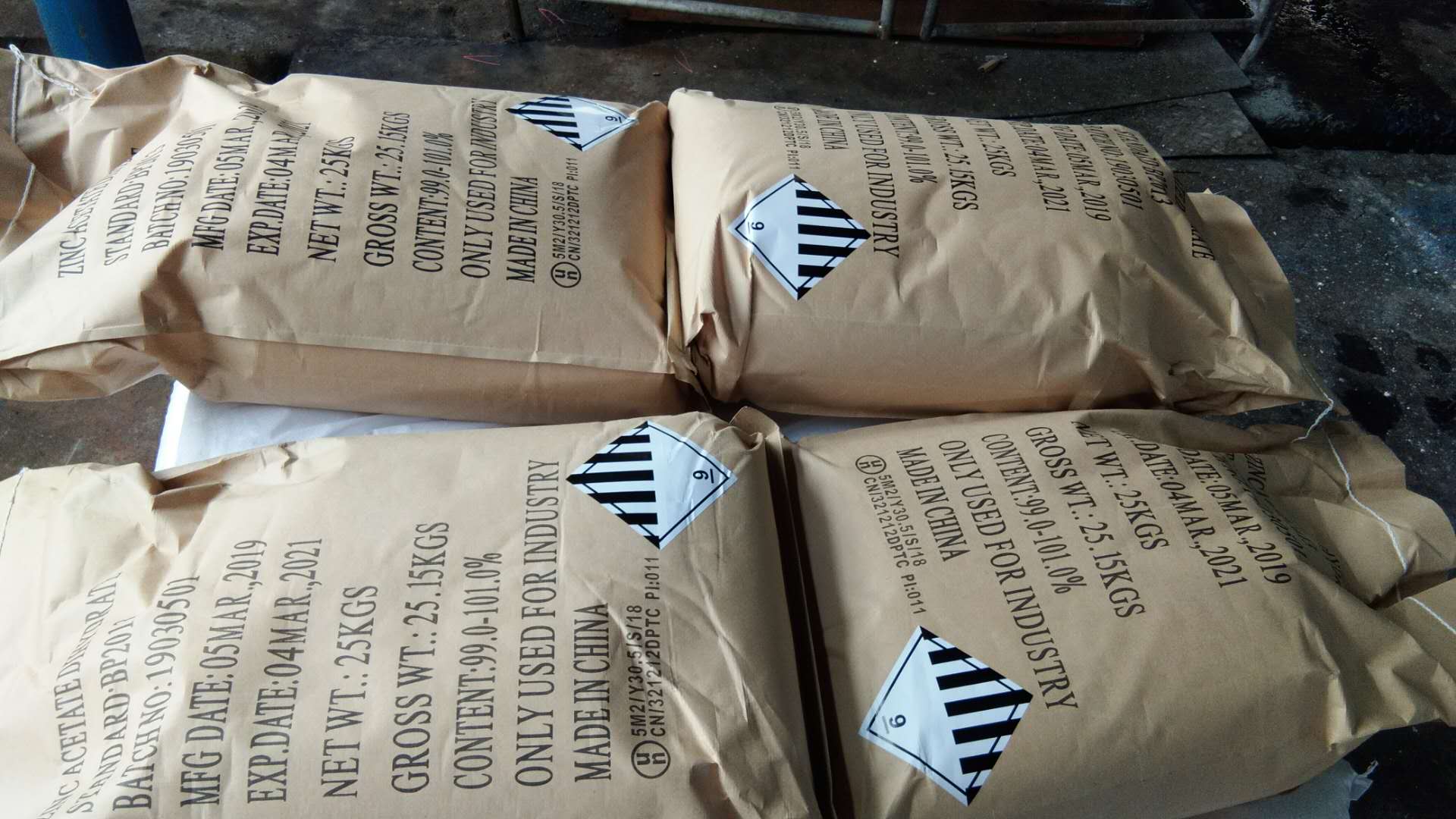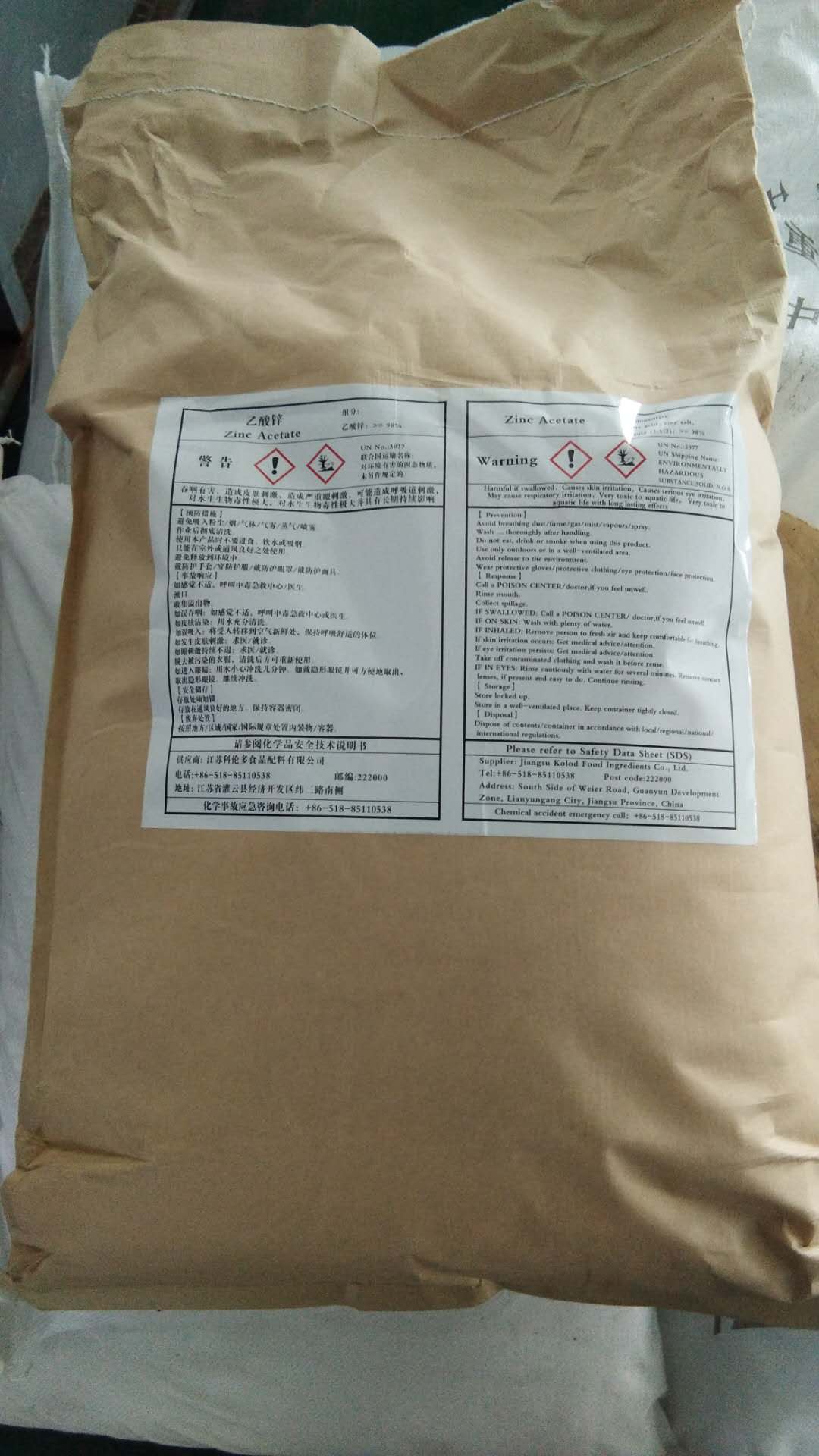 Our corporation has been focusing on brand strategy. Customers' satisfaction is our greatest advertising. We also supply OEM assistance for Zinc acetate dihydrate food additive. The product will supply to all over the world, such as: Trinidad and Tobago,Wallis And Futuna Islands,Pakistan. We're committed to meet all your needs and solve any technical problems you may encounter with your industrial components. Our exceptional solutions and vast knowledge of technology makes us the preferred choice for our customers.