Product Detail
Product Tags
Buyer Reviews
We try for excellence, company the customers", hopes to be the best cooperation workforce and dominator enterprise for personnel, suppliers and clients, realizes value share and steady marketing for Magnesium Chloride Solution Formula,Magnesium Chloride BP,Anhydrous Magnesium Chloride Formula. successful manufacturing time and finest service" We hope to cooperate with much more customers for mutual growth and rewards.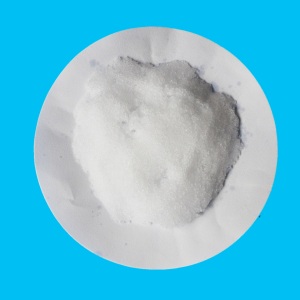 Magnesium Chloride USP
MgCl2.6H2O 203.30
Magnesium Chloride USP
Magnesium Chloride Hexahydrate USP[7791-18-6].
Magnesium Chloride Anhydrous USP95.21 [7786-30-3].
Magnesium Chloride contains not less than 98.0 percent and not more than 101.0 percent of MgCl2·6H2O.
Packaging and storage- Preserve in tight containers.
Labeling- Where the product is intended for use in hem dialysis, it is so labeled.
Identification- A solution (1 in 20) responds to the tests for Magnesium and for Chloride
pH: between 4.5 and 7.0, in a 1 in 20 solution in carbon dioxide-free water.
Insoluble matter- not more than 0.005% is found.
Sulfate - A 10-g portion shows no more sulfate than corresponds to 0.50 mL of 0.020 N sulfuric acid (0.005%).
Barium- Dissolve 1 g in 10 mL of water, and add 1 mL of 2 N sulfuric acid: no turbidity is produced within 2 hours.
Limit of calcium- the limit is 0.01%.
Potassium- Dissolve 5 g in 5 mL of water, and add 0.2 mL of sodium bitartrate TS: no turbidity is produced within 5 minutes.
Aluminum (where it is labeled as intended for use in hem dialysis)- the limit is 1 µg per g.
Heavy metals - the limit is 0.001%.
Organic volatile impurities: meets the requirements.
Magnesium Chloride BP
MgCl2.6H2O
Magnesium Chloride BP
Magnesium Chloride Hexahydrate BP [7791-18-6].
Magnesium Chloride Anhydrous BP 95.21 [7786-30-3].
DEFINITION
Content
98.0 per cent to 101.0 per cent of MgCl2,6H2O.
CHARACTERS
Appearance
Colourless crystals, hygroscopic.
Solubility
Very soluble in water, freely soluble in ethanol (96 per cent).
IDENTIFICATION
Water % (see Tests).
It gives reaction of chlorides.
It gives the reaction of magnesium.
TESTS
Solution S
Dissolve 10.0 g in carbon dioxide-free water R prepared from distilled water and dilute to 100.0 ml with the same solvent.
Appearance of solution
Solution S is clear and colourless.
Acidity or alkalinity
To 5 ml of solution S add 0.05 ml of phenol red solution R. Not more than 0.3 ml of 0.01 M hydrochloric acid or 0.01 M sodium hydroxide is required to change the colour of the indicator.
Bromides
Maximum 500 ppm.
Sulphates
Maximum 100 ppm, determined on solution S.
Aluminium
Maximum 1 ppm, if intended for use in the manufacture of peritoneal dialysis solutions, hem dialysis solutions, or haemofiltration solutions.
Arsenic
Maximum 2 ppm, determined on 0.5 g.
Calcium
Maximum 0.1 per cent.
Iron
Maximum 10 ppm, determined on solution S.
Potassium
Maximum 5.0 × 102 ppm, if intended for use in the manufacture of parenteral dosage forms.
Atomic emission spectrometry: Passes the test
Heavy metals
Maximum 10 ppm.
Water
51.0 per cent to 55.0 per cent, determined on 50.0 mg.
Magnesium Chloride FCC Food Grade, US Food Chemical Codex
MgCl2·6H2O Formula weight 203.30
DESCRIPTION
Magnesium Chloride occurs as colorless flakes or crystals. It contains six molecules of water of hydration. It is hygroscopic, very soluble in water, and freely soluble in alcohol.
Function: Color-retention agent; firming agent.
REQUIREMENTS
Identification: A 1:10 aqueous solution gives positive tests for Magnesium and for Chloride.
Assay: Not less than 99.0% and not more than 105.0% of MgCl2·6H2O.
Ammonium: Not more than 0.005%.
Lead: Not more than 4 mg/kg.
Sulfate: Not more than 0.03%.
Magnesium chloride (E511 is an important coagulant used in the preparation of cheese and tofu. In Japan it is sold as nigari (derived from the Japanese word for "bitter"), In China, it is called lushui. Nigari or lushui consists mostly of magnesium chloride, with some magnesium sulfate and other trace elements. It is also an ingredient in baby formula milk.
Magnesium Chloride Hexahydrate ACS Analytical Reagent Specifications
Magnesium Chloride ACS American Chemical Society Reagent Grade
MgCl2 . 6H2O
Formula weight 203.30
CAS Number 7791-18-6
REQUIREMENTS
Assay: -------------- 99.0-102.0% MgCl2 . 6H2O
MAXIMUM ALLOWABLE
Insoluble matter: --- 0.005%
Nitrate (NO3): ------ 0.001%
Phosphate (PO4): ---- 5 ppm
Sulfate (SO4): ------ 0.002%
Ammonium (NH4): ----- 0.002%
Barium (Ba): -------- 0.005%
Calcium (Ca): ------- 0.01%
Manganese (Mn): ----- 5 ppm
Potassium (K): ------ 0.005%
Sodium (Na): -------- 0.005%
Strontium (Sr): ----- 0.005%
Heavy metals (as Pb): 5 ppm
Iron (Fe): ---------- 5 ppm
Our primary goal is to offer our clients a serious and responsible business relationship, providing personalized attention to all of them for Greenway Biotech Magnesium Chloride MgCl2.6H2O. The product will supply to all over the world, such as: Algeria,French Polynesia,Nauru. For anyone who is keen on any of our goods right after you view our product list please seriously feel absolutely free to get in touch with us for inquiries. You are able to send us emails and contact us for consultation and we shall respond to you as soon as we can. If it's easy you may locate out our address in our web-site and come to our business for far more information of our solutions by your self. We've been always ready to construct extended and steady co-operation relations with any possible customers in the related fields.